"It always seems impossible until it's done"
Nelson Mandela
Of the latest quality improvement is the CLABSI project to reduce the infection rate in the NICU. The project has succeeded with maintaining an infection rate of 0% for the past 2 years,  turning the unit into an infection-free one.Other projects address decreasing rates of neonatal mortality, to which the major contributors are preterm birth and birth defects. Awareness campaigns across the country are conducted and aim at educating women at childbearing age on preventing birth defects and premature births.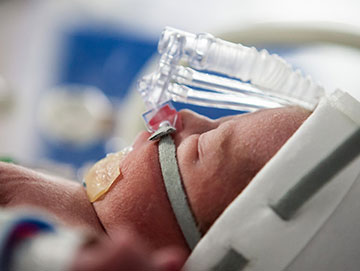 "There is nothing so terrible as activity without insight"
Johann Wolfgang von Goethe
The Neonate Fund was established at AUBMC to help newborns in need of immediate intensive care irrespective of their financial status. The NICU at AUBMC is a state of the art unit with the latest technology and equipment operated by a highly specialized team of health care professionals.
In such large units, and to maintain an up to date standard of care, research is a must. The unit under the leadership of Dr. Khalid Yunis has been undergoing continuous research projects that contribute to better quality of care in the Unit.
As director of the National Collaborative Perinatal neonatal Network NCPNN, Dr. Khalid Yunis has established surveillance systems on maternal and newborn health, preterm birth and birth defects, in addition to quality improvement projects and others in collaboration with the Center for Disease Control and prevention CDC, the March of Dimes Foundation MOD, the Ministry of Public Health, the World Health Organization WHO, the Ministry of Education, the Lebanese Society for Obstetrics and Gynecology, the Lebanese Pediatric society and others.